In Memory
Elizabeth Anne O'Neill (Homfeld) VIEW PROFILE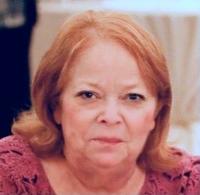 Elizabeth "Beth" Anne O'Neill Homfeld, 69, of Wentzville, MO passed away on December 25, 2020 from pneumonia complications from COVID-19.
Beth was born July 26, 1951 in Saint Louis, MO to Frank and Mary Jane O'Neill (nee Whitworth). She graduated from Hazelwood High School in 1969. When she was 16, she met and fell in love with the love of her life and our father Michael R Homfeld. They were married on August 1, 1970 when he returned from Vietnam and just celebrated their 50th Anniversary.
Beth was a devoted wife, mother, grandmother, great-grandmother, daughter, sister, aunt and friend. For the people who knew her, know she made sure you felt welcome and part of the family because the more, the merrier. She had a great sense of humor, loved sports because her husband did, always knew the right things to say because she was an amazing listener.
The greatest joys in her life were being there for the births of as many of her grandchildren she possibly could and watching them grow up. They ALL have a special place in her heart. The older ones had unwritten goal of getting her to laugh, because if you could get Grandma to laugh that was really something special. "Hi-ya Boys!"
What she would tell everyone that what she was most proud of was raising her "5 Beautiful Daughters." She raised us to be strong, independent women and instilled the value of hard work, family and having traditions.
But most importantly, she showed us how to love unconditionally and for that we thank you. We will all continue to emulate this for the rest of our lives to our children and grandchildren.
Our Mom always put others before herself and was at her best when others needed her the most. She protected those she loved the best way she possibly could and sacrificed more than anyone will ever know.
The hardest part was not be able to help you when you needed us the most. Rest in Peace Mom, we love you.
She is survived by her beloved husband Michael Homfeld, Daughters: Christine (Jeff Pollitt) Mastroianni, Michelle (Lance) Moore, Rebecca (John Adams) Homfeld, Patricia Kuehler, Kathryn (Adam) Felmlee. Grandchildren: Lauren Mastroianni, Alexander Mastroianni, Ian Mastroianni, Evan Pollitt, Emma Pollitt, Kennedy Moore, Allison (Corey) Shelton, Zachary Homfeld, Christian Kuehler, Cameron Kuehler, Connor Kuehler, Caleb Kuehler, Piper Felmlee, Emerson Felmlee. Great-grandchildren: Lucca Mastroianni, Mia Mastroianni, Dax Shelton, Oliver Shelton, Eleanor Shelton, Violet Shelton. Siblings, Mary Jane (John) Smegner, Pat (John) Ashenfelter, Cathy (Steven) Kaupas, Diane (Richard) Finch, Meg (Van) Chronis, Frank (Esther) O'Neill, Dan (Becky) O'Neill, Kim (Dave) Moncey, Chris (Mary Kay) O'Neill, Steve (Terri) O'Neill, Amy (Jim) Nelson, and many nieces and nephews.
She is preceded in death by her parents, Frank J O'Neill and Mary Jane O'Neill, brother, Brian O'Neill and niece, Colleen Kaupas.
In lieu of flowers, consider donating to your local Disable American Veterans https://dav.org
Due to COVID-19 Restrictions, she will be laid to rest at Jefferson Barracks National Cemetery at a later date.
Visitation
Thursday
January 7, 2021
4:00 PM to 8:00 PM
Pitman Funeral Home
1545 Wentzville Parkway
Wentzville, MO 63385
https://www.pitmanfuneralhome.com/obituary/ElizabethBeth-Homfeld
Click here to see Elizabeth Anne's last Profile entry.