In Memory
Daniel P. Gibson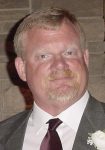 Daniel Patrick Gibson, 65, passed away in his home surrounded by family in Arnold, MO on Monday, June 12, 2017 after battling sarcoma cancer.
He was preceded in death by his father, Homer "Bud" Gibson, and sister, Pamela (Gibson) Hanlon.
Dan leaves behind his wife, Paula Kay Gibson. This blended family includes children Matthew Gibson (Laura), Erika Gibson, Jason "Gibby" Gibson, and Christopher Lewis (Amanda); grandchildren Liam Gibson (almost 15), Ellie Gibson (11), Zoe Lewis (10), Wesley Lewis (3), and Tobias Lewis is expected to be born next month. He also leaves behind his mother, Wanda (Mulholland) Olles; and brother, Brooke Gibson (Donna). There are also many beloved aunts, uncles, nieces, nephews, and cousins in this very large family.
Dan never knew a stranger. His outgoing nature led to his vocation as a professional salesman, Dan was a friend and mentor to a tremendous amount of people. His joys included sports (Go Cards!), serving God, and spending time with his family. He loved his time as a pitcher in minor league baseball, and went on to be a great coach during his children's upbringing and into adulthood. He always made a point to stay in contact with school friends, those from various churches, and those with whom he sang over the years. It was his joy to worship his Savior through song and lead others to do the same. He had a contagious laugh and spent a great deal of time and effort helping others. He will be greatly missed by many.
https://www.stlouiscremation.com/obituary/daniel-patrick-gibson