In Memory
Charles (Chuck) W. Behrends III VIEW PROFILE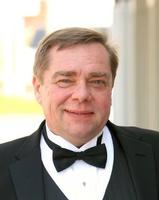 Chuck Behrends died on March 9, 2018. Father and hero to Charlie (Jessi) Behrends and Meghan Behrends (Brian Ruiz). Loving PaPa to Sullivan, Sam, Mia, and Will. Beloved brother to Kathy (Chris) Bauer, Godfather to Joe Bauer. Devoted husband to the late Sue (nee Sullivan) Behrends. Chuck was the true measure of a man. His steady wisdom was a gift to all who were blessed to know him.
A celebration of life was held on March 25th, 2018 at Old Hickory Golf Club in St. Peters. In lieu of flowers, please consider a donation to Evelyn's House.
"The stars are not wanted now; put out every one.
Pack up the moon and dismantle the sun,
Pour away the ocean and sweep up the wood;
For nothing now can ever come to any good."
https://www.stlouiscremation.com/obituary/charles-chuck-behrends
Click here to see Charles (Chuck) W.'s last Profile entry.